Sydney Coleman Explains the Tuberous Breast Deformity
Posted May 24, 2012 in Breast, Breast LipoStructure, Coleman Technique for Fat Grafting, Fat Grafting
What is a Tuberous Breast?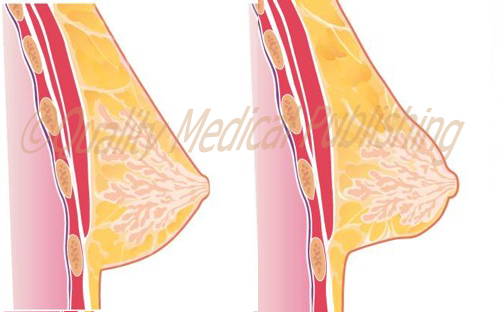 Tuberous breasts are the result of a developmental deformity.  As the breasts are growing in adolescence, the lower half does not develop normally. A normal breast has a gentle downward sloping curve in the lower portion (see left above). The skin and underlying tissues of a tuberous breast (see above, right) do not grow normally due to a constriction in the lower half of the breast. This leaves the lower breast with a "tubular" appearance because there is not enough skin or fullness below the areola (darker skin around the nipple). A tuberous breast is often complicated by an areola that is large, prominent or even "herniating" (protruding outward in an unnatural way). In many tuberous breasts, the nipple points downward or droops. Most women who present with this problem are affected in both breasts, but the condition can be present on just one side as well. Tuberous breasts vary in severity, and are actually fairly common, much more common that people realize. Often, however, they go undetected, due to ignorance of the examining physician, or embarrassment on the part of the patient.
`
Tuberous breasts are difficult problems that are best solved with Coleman fat grafting.  Next week, Dr. Coleman will explain in a Blog post his unique, successful method to naturally reconstruct this surprisingly common deformity.
–Written by the Staff at TriBeCa Plastic Surgery
Blog posts on tuberous breasts.
How Can We Correct a Tuberous Breast?
Remarkable case of tubular breast correction with Coleman fat grafting 
Twelve year follow-up of tuberous breast correction
FOR MORE INFORMATION ON BREAST FAT GRAFTING, PLEASE GO TO THE LIPOSTRUCTURE WEBSITE.
Check out these links for more information on fat grafting to the breasts:
Coleman Shows Longevity of Fat Grafting to the Breasts
New York Times Reports on Fat Grafting to the Breast
Combining the BRAVA system with Fat Grafting to the Breast
Fat Grafting to solve problems with Breast Implants
Safety concerns with fat grafting to the breast
The American Society of Plastic Surgery's Position of Fat Grafting to the Breast
Dr. Sydney Coleman demonstrates Breast Reconstruction with LipoStructure on The Doctors
Coleman lectures on fat grafting for breast reconstruction at the American College of Surgeons
Breast Augmentation Via Fat Grafting From "Plastic Surgery Practice"
Breast Implant Problems Solved with Coleman Fat Grafting
Fat Grafting to the Breast Revisited: Safety and Efficacy. Plastic & Reconstructive Surgery. 119(3):775-785, March 2007. Coleman, Sydney R. M.D.; Saboeiro, Alesia P. M.D.