Our Location
44 Hudson Street
New York, NY  10013
---
History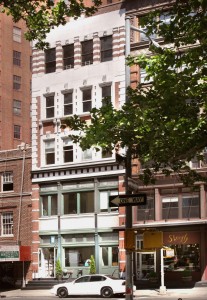 In October of 2003 Dr. Coleman made the bold decision to move his office from the Upper East Side downtown to TriBeCa and we could not be happier. Our office is located in the heart of TriBeCa (Triangle Below Canal Street), overlooking 200 year old Duane Park. We are conveniently positioned between SOHO and the Financial District. Created from a plot of land once owned by Dutch farmer Annetje Jans in 1636, this charming park is the second oldest public park in New York City. With a long history of ownership from the Duke of York to Trinity Church, this farm was eventually sold in 1795 to the city of New York for five dollars and made into a public park. With small late nineteenth century "Italianate and Romanesque Revival" buildings and historic street lights illuminating the park and planting areas, Duane Park has a feeling that can only be described as "European." In addition, it is surrounded by fabulous shops and some of the best restaurants in the world including Nobu, Bouley, and Megu.
---
Directions
Please note: Hudson Street begins at the intersection of West Broadway and Chambers Street. 44 Hudson Street is two blocks north of that intersection and faces the northern most corner of Duane Park.
A detailed map of Lower Manhattan is available from the MTA at
http://www.mta.nyc.ny.us/nyct/maps/lowermanhattan.pdf
By Subway:
If you take the 2 or 3 train to the Chambers Street exit, walk up Hudson Street two short blocks. (This is the subway stop closest to 44 Hudson Street).
If you take the A, C, E train to the Chambers Street exit, at the very northern part of the station (Chambers and Church Street), walk west along Chambers Street one block to Hudson Street and turn right (north).
If you take the 4, 5, 6 train to the City Hall/Brooklyn Bridge exit, before 7pm go to the most northern exit (Duane Street) and walk along Duane to Hudson Street. After 7pm, walk along Chambers to Hudson.
By Taxi:
Tell the taxi driver you are going to 44 Hudson Street, two blocks north of Chambers Street.
Go down Broadway or West Broadway (7th Avenue becomes Varick Street, which becomes West Broadway), turn right onto Reade Street and then turn right onto Hudson Street.
From the West Side, Lincoln Tunnel or FDR:
Take the Vestry Street exit (just past Canal Street) and turn right onto Greenwich Street. Go down Greenwich and make a left onto Duane Street. Drive straight ahead and the next avenue is Hudson Street. Turn left onto Hudson.
From the Holland Tunnel:
Take exit 2 and turn left onto Greenwich Street. Take Greenwich Street to Duane Street and make a left. Drive straight ahead and the next avenue is Hudson Street. Turn left onto Hudson.
From the Brooklyn Battery Tunnel:
Take the Westside highway until you reach Vestry exit. Make a right on Vestry and a right on Greenwich Street to Duane Street. Make a left on Duane Street and drive straight ahead to the next avenue, which is Hudson Street.  Turn left onto Hudson Street.
---
Hotels
Duane Street Hotel: 130 Duane St, New York, NY  10013
Phone: (212) 964-4600
***15% Discount for Tribeca Plastic Surgery Patients***
---
Parking Facilities
Edison NY Parking: 15 Worth Street, (212) 226-9279, 0.1 miles away
Greenwich Street Parking: 377 Greenwich Street, (212) 431-4714, 0.2 miles away
512 Parking Corp: 280 Church Street, (212) 431-5732, 0.3 miles away
Fun things to do in TriBeCa. Check out www.tribeca.org for a list of upcoming events and maps of the area.