Nose
LipoStructure® to the Nose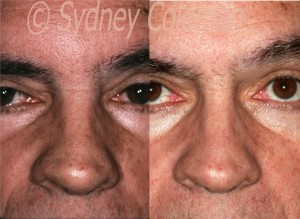 The nose is an area we usually don't think about in terms of filling or enlarging.  However, irregularities, bumps, scars and imperfections can be smoothed and reshaped with the addition of structural fat.  Skin cancers of the nose are common, and treatment often leaves an unattractive defect and scarring.  Fat can be placed to soften the scars and fill in the defect.  Likewise, a bump on the nose can be disguised by placing fat above and below the area, and visible cartilage in the nasal tip from a bad "nose job" can be camouflaged.  But LipoStructure fat grafts into the nose are most useful for rejuvenation and correcting nose deformities from previous nose operations.  Fat grafted to the nose by the Coleman method does not feel like fat, but rather feels like skin, cartilage, bone or muscle , basically assuming the quality of the part of the nose into which it is placed.
Aging
The aging nose loses fullness in the upper nose and between the eyebrows more than any other location.  As this area atrophies, wrinkles form between the eyebrows and on the upper nose.  As the upper nose shrinks, the remaining parts of the nose become relatively larger.  Therefore the tip appears larger with the atrophy of the upper nose.  As this happens, the tip may also appear to plunge.
Shape
Rhinoplasty surgeries often leave a nose with an "open roof." With this common deformity, the cartilage and bony parts of the nose have been separated so that it looks like a long trough through which the septum can be felt or even seen through the thin skin of the nose.  In addition, the cartilage or bone can become deformed in many ways after rhinoplasties. The skin of the nose in some patients is so thin that irregularities can be amazingly visible after nasal surgery.
For the patient seeking a stronger nose, more definition to their nose, or a change in relative proportion of one part of the nose to another or to the rest of the face, fat grafting is a useful tool.