Lower Eyelids and Cheeks
Cheeks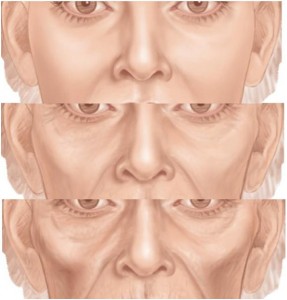 Although the perception of a beautiful cheek varies among different cultures, most consider a full cheek with distinct projection of the upper portion cheek and slight hollowing of the mid cheek to be attractive.   Emptiness or hollowing, especially in the upper inner cheek can make even a young person look tired, sad or unhealthy.
Some lucky people are born with prominent, full cheeks; others are not.  But even those with full cheeks in their youth will lose some of their fullness as they age.
Structural fat grafting can replace and restore full or well defined cheeks for those who have lost it, and improve the shape of the face for those who have never had full or prominent cheekbones.  Filling out the cheeks also can give the appearance of "lifting" the face without a facelift.
LipoStructure can also be used to reverse the damage caused by chronic acne scarring, reconstruct the cheek, minimize the appearance of bulging eyes, and disguise or soften the appearance of silicone cheek implants.
Lower Eyelids
The lower eyelids are one of the most common sites for fat transfer. The lower lid/tear trough area often becomes dark and hollow with age. Placing a thin layer of fat carefully into this delicate area can make someone look younger and less tired. Many dark-skinned individuals have dark shadows even in early youth, and placing a layer of fat below the skin can lighten the area significantly. Because the skin here is so delicate, and there are many tiny blood vessels, this area often bruises quite a bit, and one must be patient during recovery for bruising and discoloration to gradually fade.
For more information about LipoStructure procedure, please click here.
For more information about your initial consultations, please click here.