Fat Grafting Facial Reconstruction Can Be a Better Alternative
Posted July 20, 2009 in Facial Reconstruction, Home
Restoration of Missing Facial Tissues Important Alternative to Traditional Surgeries
NEW YORK CITY, NY – Sydney Coleman, a Plastic Surgeon in New York City, has demonstrated that Coleman fat grafting facial reconstruction has an important place in most areas of facial reconstructive surgery.  Dr. Sydney Coleman has shown at international meetings throughout the world that fat grafting can replace many more complicated, less effective methods of reconstruction.  A patient whose case was published previously in Plastic and Reconstructive Surgery returned recently 18 months after his last procedure with an exciting result.
This 23 year old patient was discovered to have a rhabdomyosarcoma cancer of the masseter muscle (the muscle on the side of the face used for chewing) when he was eight years old.  He was successfully treated with removal of many of the muscles of his face and therapeutic radiation to the left lower face.  In the areas of the radiation, his facial and skull bones did not grow normally, and he was left with a severely deficient lower left face (see above).  In addition, the skin of the irradiated area was extremely fragile and beard growth abnormal.  He had had no procedures done since his original cancer surgery.
Between 2004 and 2008, three Coleman fat graft procedures were performed to arrive at the above result (which is eighteen months after the third procedure.  The fat was layered through tiny incisions over the lower one-quarter of this young man's face and over the lower part of the skull (mastoid) using special tools developed by Dr. Coleman.  The layering started at the bone each time and extended out to the skin.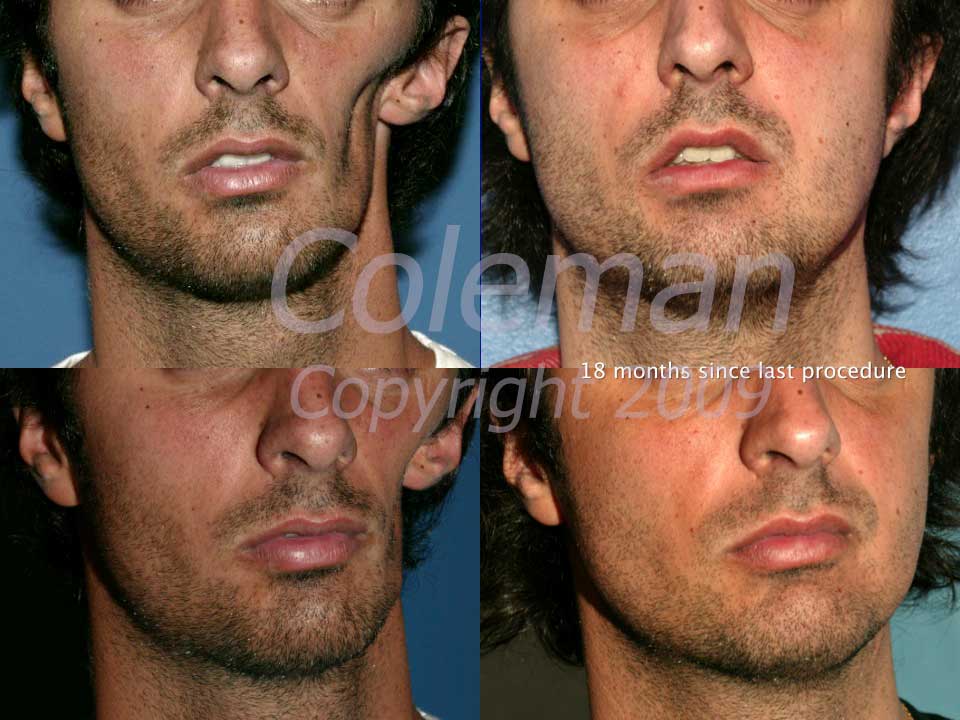 One of the most important reasons for using fat grafts in such situations is that the stem cell and growth factors present in fat grafts may promote healing of the damaged tissues.
Surgeons are hesitant to operate on body areas which have been treated with radiation because they heal poorly or not at all after a surgical procedure.  Recent evidence points to the healing of radiation injury and even improvement in the appearance of aging skin by fat grafting to an area.  The healing most likely takes place by bringing in stem cells (or repair cells) which build new blood vessels and capillaries to the irradiated skin, muscle and bone.
In addition to treating acquired deformities from radiation therapy or accidents, Dr. Coleman has successfully treated facial deformities such as birth defects, Romberg Syndrome, Treacher Collins Syndrome, problems from childhood cancers, radiation damage, vascular tumors and cleft lip deformities with Coleman fat grafting.
© Coleman 2009
revised 2013
More examples of reconstruction using Dr. Coleman's specific technique can be found at www.colemancolemanlipostructure.com.
Further reading:
The treatment of body scars with structural fat grafting
Fat Injection: From Filling to Regeneration
In Dr. Coleman's book Structural Fat Grafting
In Chapters 17 & 18 of Dr. Coleman's book Fat Injection: From Filling to Regeneration
Treatment of the aging hand with LipoStructure
NY Times shows photos of progressive improvement in skin quality with Coleman Fat Grafting