Dr. Sydney Coleman presents LipoStructure to maxillofacial and craniofacial surgeons
Posted October 02, 2008 in Facial Reconstruction
In Bologna, Italy, during the 19th Congress of the European Association for Cranio-Maxillo-Facial Surgery (EACMFS) Dr. Coleman presented a special one-hour lecture. The lecture was entitled, "The Role of Structural Fat Grafting in Aesthetic and Facial Reconstructive Surgery."
Dr. Coleman reviewed patients from his 22-year experience of treating patients using structural fat grafting in facial reconstructive problems.
The use of fat grafting was demonstrated to aid in the correction of a large number of facial deformities, including hemifacial atrophy (Parry Romberg syndrome), hemifacial microsomia, Treacher Collins syndrome, phlagiocephay, secondary cleft lip problems and cancer survivors with significant face and neck deformities from surgery and radiation.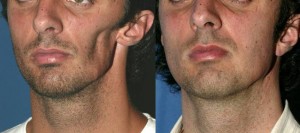 Patient with a significant deformity 15 years after  removal of cancer from the left lower face along with muscles and other tissues followed by irradiation (left before).  One year after only two fat grafting sessions (right after), the face appears and feels normal.
© Coleman 2008