Correction of Tuberous Breast Deformity with Coleman Fat Grafting
Posted August 13, 2008 in Breast, Breast LipoStructure
The degree of sculpting possible with structural fat grafting to the breast is particularly advantageous in the challenging correction of tuberous breast deformity. The tuberous breast is a deformity in which the lower skin of the breast (the lower pole) is abnormally constricted (tight) and short. In addition, the normal fold of the breast (the inframammary fold) is higher that it would be under the normal breast. These two combined make the breast shape distinctly abnormal, and prevents the fluid roundness of a normal breast. In the more problematic cases, the tightness of the lower breast makes the nipple and areola appear much larger and more puffy than in a normal breast. Treatment for this problem using structural fat was first described in the journal of Plastic and Reconstructive Surgery last year by Coleman.
In the case below, the skin envelope of the breast was selectively expanded with fat placed immediately beneath the skin. No fat was placed under the central breast (the nipple-areola complex). This changed the relative proportions of the breast creating a natural appearing and shapely "A cup" after one procedure (see below). The patient desired larger breasts after the first correction, so further augmentation with fat grafting was performed (see below) to bring her up to a "B-cup."
The time requirement of such a fat grafting procedure should not be underestimated. The time to harvest, refine, and place fat into the breasts in this fashion will take many hours. In the patient shown placement of fatty tissue into the breasts took about seven hours for the first procedure and five hours for the second. The reward of the time and effort is a dramatic change, which is much more natural than if implants had been used. Fat grafting for correction of tuberous deformity leaves the patient with natural appearing, normal breasts. As with any breast procedure, patients must be aware of the potential risks and complications of fat grafting to the breast.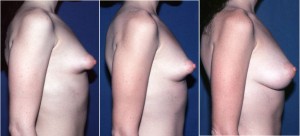 28-year old woman with a bilateral tuberous breast deformity before any procedures(left ). Result after first fat grafting procedure with placement of 370cc on left and 380cc on right (middle). Photo on the right was taken at almost 5 years after the second fat grafting procedure in which 300cc was placed into the left breast and 340cc into the right.
Other blog posts on tuberous breasts.
How Can We Correct a Tuberous Breast?
Twelve year follow-up of tuberous breast correction
Remarkable case of tubular breast correction with Coleman fat grafting 
For more detailed information about fat grafting to the breast, please refer to LipoStructure.com.
For information on the consultation, procedure and pricing for Dr. Coleman's fat grafting to the breast CLICK HERE.
TO SEE ANOTHER TUBEROUS BREAST RECONSTRUCTION BY DR. COLEMAN, PLEASE CLICK HERE.
For more details about fat grafting to the breasts, please refer to the article in Plastic and Reconstructive Surgery.
© Coleman 2008 and 2013