Coleman lectures on fat grafting for breast reconstruction at the American College of Surgeons
Posted October 16, 2008 in Breast LipoStructure
Sydney Coleman presented his experience with breast reconstruction using LipoStructure® at the American College of Surgeons Annual Meeting this week in San Francisco.  In the section Reconstruction & Breast Cancer:  Techniques & Approaches to Optimize Outcomes in Reconstruction after Partial & Total Mastectomy, Dr. Coleman gave a lecture "Fat Grafting in Breast Reconstruction."  During the lecture, he recounted his twelve-year experience with fat grafting in breast reconstruction.  Of particular importance, the effect of grafted fat to reverse the problems of therapeutic irradiation and hard breast implants was presented.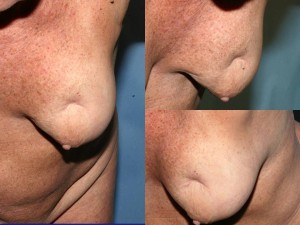 Dr. Coleman began his lecture by discussing a lumpectomy patient (above leaning forward) who had a lumpectomy on her left breast followed by six weeks of therapeutic radiation.  A few months after the treatment, she developed severe pain and hardening of her breast.  Her treated breast became so hard that mammograms were not possible, and she had to have MRI's instead.  She could barely raise her arms over her head without encountering shooting pain.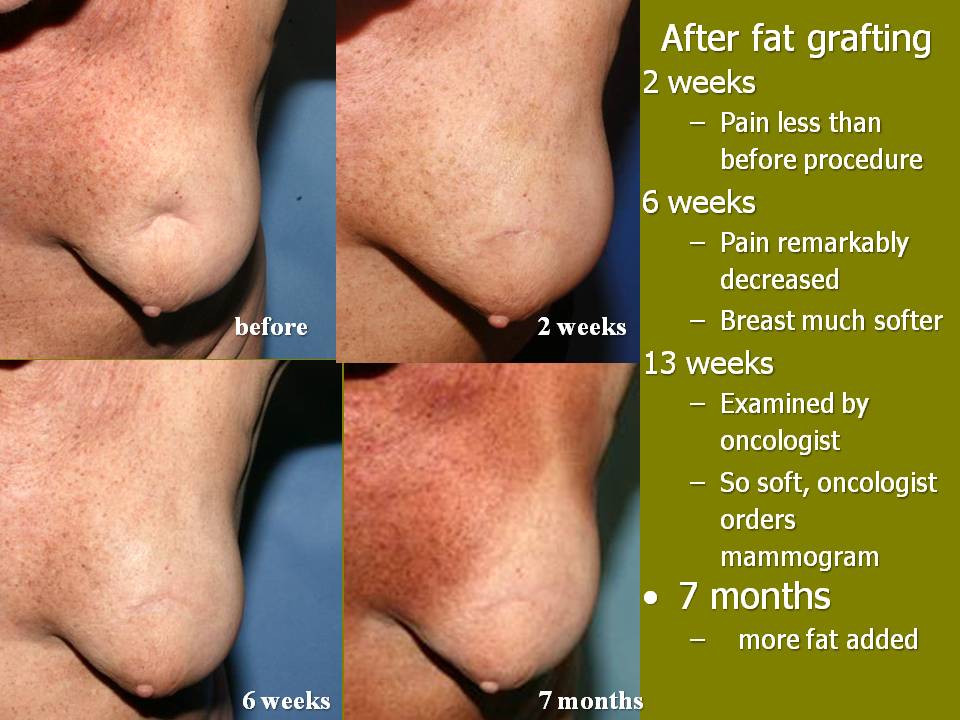 When the patient returned at 2 weeks (above) she was amazed at how rapid her recovery had been.  She also commented that her shooting pains in the site of the radiation were notably less.  When she returned at 6 weeks, she said that the pain had almost completely disappeared, and the hard areas of her breast were much softer.  At 13 weeks, she went to see her surgical oncologist, who was so impressed by the softness of her breast that she went ahead and ordered a mammogram, which was now easy on a soft, painless breast.  She returned at 7 months ready now for a second procedure this procedure aimed this time at adjusting the contour of the breast.
Dr. Coleman explained that after conservative breast therapy for cancer (lumpectomy followed by irradiation), a woman is left with a defect that is often difficult to reconstruct.  Therapeutic radiation is a critical component of breast conservation treatment to decrease the possibility of the cancer returning near the site of the original cancer. Unfortunately, radiation combined with a saline or silicone gel-filled implant remarkably increases the incidence of scarred or hard breasts (breast capsular contracture), infection and rejection of the silicone implant.  Therefore, placement of an implant in these conditions often results in a poor cosmetic result.  Putting fat to a breast after lumpectomy and irradiation not only restores the breast by adding volume and reshaping the breast, but also promotes the in creation of a blood supply and the healing of the radiation damaged breast. This effect also occurs in the face after treatments with radiation (see facial reconstruction) and may also be similar to the effect of fat grafting on sun damaged skin (see progressive improvement in skin quality after fat grafting).
Dr. Coleman concluded his lecture with the comment that long-term studies still need to be completed. He is currently working with other plastic surgeons, oncologists and radiologists at NYU to develop a multi-center prospective study examining the use of fat grafting in the breast.
For more detailed information about fat grafting to the breast, please refer to LipoStructure.com.
For information on the consultation, procedure and pricing for Dr. Coleman's fat grafting to the breast CLICK HERE.
Related articles:
Lipofilling: a role in breast reconstruction surgery?
From "Behind the Medical Headlines" produced by the Royal College of Physicians of Edinburgh and Royal College of Physicians and Surgeons of Glasgow
Breast Augmentation Via Fat Grafting
From "Plastic Surgery Practice"
Breast Implant Problems Solved with Coleman Fat Grafting
Fat Grafting to the Breast Revisited: Safety and Efficacy.
Plastic & Reconstructive Surgery. 119(3):775-785, March 2007.
Coleman, Sydney R. M.D.; Saboeiro, Alesia P. M.D.
© Coleman 2008